A survey was conducted in November 2013 by Darin J. Eich, Ph.D. about college athlete leadership development. This survey was emailed to Division 1 Athletics Professionals. A total of 92 individuals completed the survey thus far. The stated purpose of the survey is to identify some high-impact practices that athletics departments can use to develop leadership skills in student athletes and build better training and life skills programs. We asked the following five questions.
A. Where do you think the real leadership development & learning happens for student athletes?
B. What specific programs or Athletics experiences have a high-impact on your athletes learning life skills and developing as better leaders in their life and teams?
C. What kinds of leadership and life skills are student athletes learning and developing as a result of these Athletics programs and experiences?
D. The Future: What types of new leadership programs or experiences would you like to provide for your athletes? What kinds of leadership or life skills would you like to help student athletes improve at?
E. Anything else you would like to add about student athlete leadership development and life skills programs?
COLLEGE ATHLETICS LEADERSHIP SURVEY RESULTS

A. Where do you think the real leadership development & learning happens for student athletes?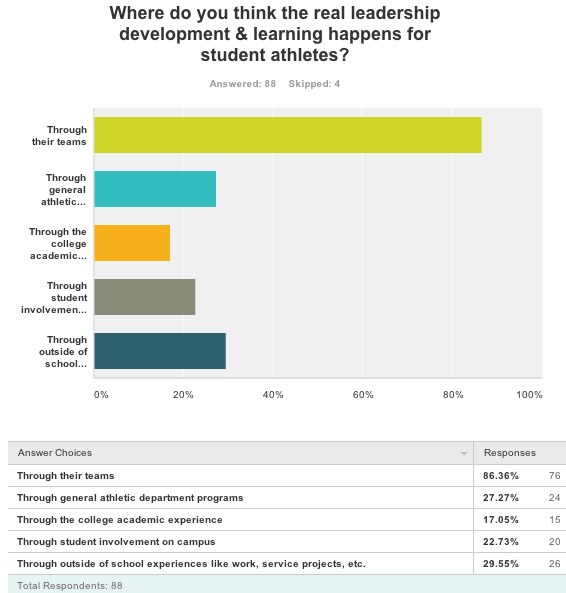 Other:

1. all of the above
2. Coaches
3. I believe all of these offer opportunities but it depends on the athlete to take advantage of them.
4. through leadership programs that focus on application of team experiences to world of work and interpersonal relations
5. SAAC
6. All the above,
7. Especially team service projects
8. I believe they learn about it through their teams, its is not however, always positive
9. I strongly believe it takes the entire experience to develop leadership skills.
10. Those who serve as Mentors in the Department. This needs to be emphasized.
11. All of the above
12. Special programs offered by conferences and NCAA as well
13. It takes a village – all of these need to fire at a high level

B. What specific programs or Athletics experiences have a high-impact on your athletes learning life skills and developing as better leaders in their life and teams?
1. being part of a team and understanding the importance of 'we" not "I".
2. Training in all sports, but also life skills sessions (i.e, budget, investing, etiquette)
3. individual attention from coaches/staff NCAA Choices Grant inspired programs to create peer leaders within our student athletes
4. Student-Athlete Advisory Council Team camps Team competitions
5. Strength &Conditioning and Study Hall hours.
6. community service/engagement
7. Lifeskills programs that involves community service and volunteering on campus and with other outside organizations.
8. mentoring programs for middle and elementary school students; other community service activities; SAAC
9. Dealing with the aspects of team dynamics
10. Developing the roles of captains on teams as well as SAAC experience.
11. Life Skills Programs Community Service
12. Team meetings that are conducted by the captains along with team travel to schools and recreation centers as part of community outreach
13. Participation with team in Community Service Projects
14. SAAC leadership and being a SAAC rep puts you in a leadership role which doesn't necessarily have to be the best players on the team. Being one of the top players on the team is an automatic leadership role but sometimes they aren't prepared for that. I think the most important is having positive coaches and role models for athletes while they are away from home is crucial.
15. We started a Colonial Leadership Academy in 2011.
16. SAAC Outside leadership speakers Rigors of time management for student-athletes
17. Depends on the university. Previous university contracted with Jeff Janssen and worked with NCAA Leadership Development program. Current university does nothing, but we are working to improve programming in this area. I think we all miss CHAMPS/Lifeskills formal program and hope that NCAA Leadership Development can continue to provide some direction.
18. Leadership experiences: SAAC, formal mentoring programs
19. Team initiatives and programs and SAAC , peer mentoring, life skills class
20. Any program that their coach thinks is important will have the most impact. If their coach does not think it is important they will not either.
21. Life Skills Course Community Service Endeavors supported by teams and department. Seeing others either going down the wrong path and losing their scholarships or seeing other succeed by doing things right and getting involved.
22. Academics Athletics Life Skills/Community Outreach Meaningful Relationships Leadership Experiences Compliance Career Placement
23. Interaction with teammates and coaches. Experiences with team travel.
24. We run leadership programs, academic mentoring sessions and life lesson seminars.
25. The athletic experience teaches discipline and sacrifice through practice,conditioning and competition. Balancing it all with one's scholarly endeavors teach great life lessons.
26. Serving as team captains. Also a strong role model as a coach who emphasizes life skills and non-athletic priorities on a daily basis.
27. Their everyday experiences taking place in practice, workouts games, one on one meetings with peers and coaches. Same goes for their classroom experience with faculty and professors
28. Pre-season team bonding, over coming adversity on the team
29. Responsibility that comes from being a teammate. Involvement with programs coordinated by our Student-Athlete advisory committee.
30. Champs Life Sills Community Service Activities Participation on Teams
31. 1) SAAC Committee work. Especially for the members of the elected Executive Board who run it. 2) Freshmen Group Sessions run by upper classmen peer educators (2 to a group of 10 freshmen). Meet every Monday night for 1 hr in the fall semester. Especially beneficial for the peer educators, who also attend training, but it also has impact on the freshmen as some will sign up for the peer educator program in their sophomore or junior year.
32. Interaction with Senior Management. SAAC. Being on a championship team.
33. Practice and competition
34. Practice sessions with teammates and with Student-Athlete Advisory Committee peers.
35. In working with student athletes, I have considerable success with strengths quest, True Colors and application of several leadership models. Also Jeff Jansen Leadership Academy has some valuable assessments and tools
36. seminars or classes on leadership topics leadership exercises and activities community service
37. Career preparation programming — we focus on this quite a bit. SAAC outreach initiatives — athletes really enjoy getting out in the community. We are pretty broad as far as our life skills programming goes, but we have focused more on career prep in recent years.
38. Having real team responsibilities with specific expectations outside of just practice/competition, Student-Athlete Advisory Committee, Any project where they have to work with the administration rather than coaches
39. Being part of a team; competitive environment; requirements for study discipline; requirement for community service.
40. Winning and losing games. Off-season conditioning and training. Freshmen leadership seminars.
41. -personal interaction with coaches -dealing with ups and downs of competitive athletics and team dynamics
42. I truly believe that the lessons these students experience in their sport happens during practice and in games.
43. The one skill that athletes develop and transfer to leadership is discipline–staying focus and persistence in spite of the desire to quit!
44. Their coaches play a big role in how they become better leaders. Some coaches are much better at this than others. We also offer some department wide programs but nothing just for athletes
45. LeaderShape is one program that has had a high impact.
46. Especially team service projects
47. volunteering with goals and follow-up directed by SAAC, Life Skills or Academic staff.
48. Outside speakers and activities with groups of all athletes, not just team specific, where the young people can use what they have learned on their teams and assert themselves in new settings/
49. internships within the athletic department basically any hands on experience they can get – although it needs to have some length to it, a one or two time experience won't get it done
50. Student-Athlete advisory committee, community service programs, leadership program
51. Freshman Workshops, Student-Athlete Advisory Committee, Bear TRACKS, Peer Mentors, Captains Council
52. Engaging hands on or relevant programs
53. Participating in Captains Council, a leadership training program; participating as an Orientation Guide and/or RA.
54. Adversity: their responses and those of their teammates/coaches.
55. Leadership development programming, workshops and sessions off the field & court
56. Participation in SAAC events and community service projects
57. Outside team service projects, CHAMPS Life Skills
58. We take all team captains to Gettysburg for a three day a Leadership and Team building exercise. We also include other student leaders so that the interaction of athletes and other students is improved. Team Captains and Student leaders meet monthly throughout the academic year to discuss issues and work out conflicts within the student body. This interaction results in a more thorough understanding of the role of the student athlete within the community.
59. Life skills programming and Student-Athlete Advisory Council leadership meetings and planning.
60. Student-Athlete Advisory Committees (SAAC) Community Service projects (i.e., Habitat for Humanity)
61. growth and maturity with all life experience planned or experienced
62. Learning by example. Seeing how their coaches and administrators handle things.
63. Training as a team. Leadership as Captain or senior Leader.
64. Coaches that hold athletes accountable and urge academic achievement, have the strongest influence on student-athletes gaining leadership and life experience for them to be successful later on.
65. Aggie Athletes Involved (Community Service Group) with representation from all sport teams has been a great learning opportunity for our student-athletes.
66. Individual Mentoring by Coaches and Athletic Administrators
67. SAAC and community service
68. Leadership programs sponsored by our Student welfare department as well as team community service projects.
69. Team leadership and mentorship experiences (e.g., seniors mentoring freshmen, captains leading team in times of adversity, coaches challenging senior leadership to motivate their peers)
70. We have a student-athlete leadership institute.
71. developing communication skills (listening and sensing in addition to talking), learning tolerance and embracing diversity, learning value-based culture elements, serving as a captain, public speaking, going through adversity and self-admitting mistakes and owning up to responsibility, taking corrective action
72. community service; tough times within the team (e.g. losing)
73. Winning and losing, overcoming injuries, dealing with transition and change
74. DISC Assessment; Step Up; Great Plays Grant from Miller/Coors; Alcohol Education Speakers, Gambling Speakers
75. Balancing their day-to-day time demands and adversity they deal with through missing classes and dealing with the overall experience. We also provide leadership training and other life skill training.
76. Leadership academy and community service
77. leadership seminar
78. dedicated leadership development program(s) balancing athletic commitments with academic obligations losing important competitions Not being the best (team, player, etc)
79. team training, academic services, public speaking
80. Any combative Team sport that requires teamwork, followship and leadership.
81. Programs that help them connect their athletic experiences to real life leadership
82. Weekly team leadership development program Department-wide leadership programs
83. Life Skills Programs. Leadership Development Programs at certain schools. Coaches who value leadership development and hold "Captains Council" etc.
84. Life skills life situations
85. Beavers without Borders (International Service Learning Trips) Leadership Classroom experiences Athletic Director and Sr Admin availability and openness Intentional Networking events w Alumni Start Up Weekend

C. What kinds of leadership and life skills are student athletes learning and developing as a result of these Athletics programs and experiences?
1. How to lead by example, not allowing failure to define one's self (fail forward), to get out of their comfort zones and not settle for mediocrity
2. Discipline, time management, teamwork, conflict-resolution
3. how to be a peer mentor, recognize when teammates need help, provide feedback to teammates, understand the world outside of their small perspective.
4. Accountability Career planning
5. I believe that these two areas require time management skills. Leaders are those people willing to put in the "work" when coaches are not looking to succeed. These are the individuals who become the leaders in life.
6. accountability, trust
7. Role model and setting an example of teamwork while working with youth organizations who look up to our student-athletes. Selective speaker series on key life issues involving gambling, alcohol and drugs, etc. have been very effective.
8. reaching out to those less fortunate; not taking for granted what they have been given; ability to give back.
9. Group behaviors
10. Learning to deal with diverse individuals as well as a range of motivation from those individuals.
11. group dynamics teamwork time management
12. Being a good neighbor Caring for those less fortunate How to be a leader/role model and how to handle adversity
13. How to work with others, Perseverance, commitment,
14. time management, how to deal with all kinds of people, pressure and how to deal with that, diversity
15. They apply, interview and are screened to join the group. Speakers and mentors are brought in from outside the institution for the program.
16. Motivational Goal Setting Time Management Do's/Don'ts of Social Media & Networking Conflict Resolution Understanding Diversity
17. Accountability, communication, decision making, goal setting, commitment.
18. Relationship-building
19. Various levels of leadership, roles, responsibilities
20. Servant leadership, public speaking, responsibility and responsible social media and virtual reality persona.
21. Academics – We expect our Student-Athletes to pledge their best effort in their academic affairs – acquiring knowledge and advancing towards a degree. Athletics – We expect our Student-Athletes to prepare diligently and compete aggressively – in order to position themselves and their teammates to compete for championships. Life Skills/Community Outreach – We expect our Student-Athletes to acquire vital life skills training – and serve the surrounding communities. Meaningful Relationships – We expect our Student-Athletes to become an integral part of the University community and an active member of the student body. In the process, we want them to enjoy their experience and develop meaningful relationships. We expect them to become engaged with their teammates and the Student Body, developing lifelong relationships We expect our Student-Athletes to remain friends of the University following graduation Leadership Experiences – We expect our Student-Athletes to engage in regular communications with the array of leaders, mentors and advisors within the Department of Athletics and the community at large. Compliance – We expect our Student-Athletes to be in full compliance with all University, Departmental and NCAA compliance regulations. We expect our Student-Athletes to know that the "right thing to do" is the "only thing to do." Career Placement – We expect our Student-Athletes to use all available resources in the quest of a productive and meaningful career. We expect our Student-Athletes to live a life of service and honorable citizenship.
22. Organizational and interpersonal skills. Problem solving and communication skills.
23. Team unity, individual leadership, interpersonal and group communication skills, public speaking, hard work.
24. Learning to work together as a group to attain a shared goal. Once again, student athletes also learn to sacrifice their own wants and desires to reach a greater goal.
25. Maturity that will set them up for post-collegiate careers. I see many athletes come in as wide-eyed freshman, develop through their teams, and enter life after college ready for either strong careers or furthering their education,
26. time management, constructive criticism, teamwork, working within a team. Handling failure/success.
27. Team work, decision making
28. Accountability
29. Time management, discipline, respect, organization
30. Life skills: Self-awareness, how to increase self-esteem, communication skills, problem-solving skills, conflict resolutions skills, setting appropriate boundaries. Leadership skills: foundations on what makes good leaders, intro to different leadership styles and how they relate to their personalities, opportunity to refine their leadership philosophies and apply them.
31. Accountability, responsibility, self-awareness, vision and servant-ship.
32. teamwork, communication, discipline
33. Work Ethic, Mentoring, Competition, Perseverance, Dealing with Adversity
34. Importance of team and personal values to success and team branding How communication and style preferences go hand in hand in improving team dynamics
35. confidence self-awareness motivation humility servant leadership
36. The power of networking, general career preparedness, leading and serving others.
37. Communication skills, problem solving, conflict resolution, commitment to responsibilities on a daily basis
38. Teamwork; communication; surviving in a competitive environment.
39. Goal-setting, teamwork, handling adversity
40. self-confidence, team above individual, accountability and holding other accountable, communication
41. Learn to work as a team, to work hard and EARN their positions or success. They learn how to team with adversity, how to deal with disappointment and how to be leaders and mentors to younger teammates.
42. Discipline Focus Resilience Physical fortitude Ability to take criticism
43. How to deal with diversity. How to bring a team together, how to stand up for what is right.
44. How to identify their "calling" and to follow through with action.
45. Team work, servant leadership, social change model outcomes
46. Organization, setting goals, being evaluated outside of the classroom.
47. Analyzing situations, problem solving, communications, conflict resolution.
48. learning presence, how to deal with difficult/upset people, how to run, market, fundraise for events/groups, how to set priorities and follow them through
49. Working with the Jeff Janssen's model
50. Respect, Conflict Resolution, Communication, Good Decision making, Community Service, Organization skills, Time Management, Program and Event Planning, Diversity issues, Sportsmanship, Listening skills, Social skills
51. This varies by team and coach philosophy. They learn a lot about working together and they often learn what "bad" leadership is. They may also learn how to help keep teammates out of trouble, but they may never learn how to actually be a leader
52. Conflict resolution; verbal communication; listening skills; time/priority management; negotiating with difficult personalities; self-care and boundary setting.
53. Unfortunately most come with very little in the way of: critical thinking, decision making and problem solving skills. We are often starting from square one and one outside lecturer is not going to have a long term effect. If anything, repeated exposure… collective experiences and positive reinforcement will help.
54. Dynamic leadership, skill building, networking, transferable skills for "Life after Tulane"… career athlete track
55. Ability to lead their peers, organization and development of a program
56. Accountability, service, commitment, selflessness, organization, time management
57. Networking, public speaking, mentoring, etc.
58. Teamwork, Communication, Responsibility, Time Management
59. How to handle conflict, how to motivate and inspire.
60. Teamwork, self-sacrifice, work-ethic, overcoming adversity, learning to work towards personal and team goals, representing your institution
61. Comprehensive life skills program: Consequences for your actions Etiquette Seminar Dressing for success Networking seminar and job fair
62. They are learning the importance of honorable citizenship and the importance of Community Service. Finally, the importance of developing their own leadership style through being exposed to a wide array of Leaders.
63. decision-making, commitment, integrity and accountability
64. Concern for others, community needs, helping the less fortunate, giving hope to others, being a positive influence to the next generation, providing inspiration through their own personal story.
65. Problem solving Critical thinking Listening Peer intervention
66. They are not only identifying and practicing the leadership skills they already excel at, but they are also identifying and strengthening areas for improvement. All activities we do are interactive and active.
67. Playing a role for the greater good of the organization or team; time management and prioritization; communication; work with goal of perfection/high standard of excellence; accountability
68. They learn to respect others. They learn how to handle adversity.
69. resiliency, conflict resolution, communication, discipline, work ethic
70. Any and all – confrontation skills, coping skills, mentoring skills, crisis management skills etc,
71. Time management, teamwork, diligence, hard work, financial management, communication and networking, etc.
72. Perseverance Accountability Discipline Commitment Goal/Standard Setting
73. accountability, teamwork, work ethic, motivation, sacrifice, time management
74. Value of working together for a common goal, that transcends individualism.
75. The value and characteristics of effective leadership
76. Confidence teamwork Values Service character development
77. Teamwork, Communication, Commitment, Drive, Determination, Perseverance, All the main leadership experiences!
78. Job interviews take responsibility for ones own actions
79. Confidence to take on ANY CHALLENGE Sharp and impressive interview techniques The ability to articulate athletic experiences to leverage work ready skill sets How to start your own company

D. The Future: What types of new leadership programs or experiences would you like to provide for your athletes? What kinds of leadership or life skills would you like to help student athletes improve at?
1. We are establishing a leadership academy for all of our student-athlete that will be mandatory their freshman year and involve community leaders to help teach them leadership principles and mentorship.
2. I think counseling services are important. I believe we have the duty to invest in our athletes and provide them with growth and healing at a deeper level.
3. bystander prevention proactive leadership
4. I would like to see a series of life skills sessions, presented through a program, that student-athletes are required to attend.
5. I believe time management is crucial for the success of our student-athletes. I would love to have public speaking seminars available to all. Being able to articulate thoughts and speak well allows students to excel in areas such as interviews. If you can speak to a group, you can inspire action. This is what leaders do.
6. communication, trust building
7. Continued outreach that applies more concentration and team building whether through Habitat for Humanity, Etc.
8. media training. public speaking, writing skills.
9. It would be great if there were national leadership programs that brought individuals together regardless of sport or division.
10. Public speaking Conflict resolution
11. I would like to see student athletes organize an away game trip, even if it's a scrimmage. budget the trip, handle the $, communicate with travel partners, and handle the time management aspect on their own. *real world budget balancing *handle travel matters *make sure they are planning correctly *time management
12. Servant leadership
13. I think there should be more on how to transition into the real world, more on how impactful internships can be, how to write resumes, and one of the most important is how to use their time as athletes and learn how to network.
14. Understanding Social Media "finger print" Global Leadership – Applying skills learned to real world practices
15. I would like to have a systematic program in place that assists the students from PSA process through graduation/first job. Leadership and life skills– accountability, communication, time management, writing skills, job placement (cover letters/resume, interview, networking), service, …. and more!
16. Visioning, impacting change
17. more of a class type program dedicated to this concept with opportunity to put them into action
18. Teaching our students to think on a larger scale. Getting out of their own world and looking at things through others points of view.
19. We will be adding Life Skills 2 and 3. Two will focus on actual leadership skills, leadership models and leadership directed activities. Three will focus on community involvement, service and initiatives and also preparation for life and the working world after athletics is over.
20. One of our departmental core values is continuous improvement, so we expect our students, coaches and staff to continually learn and find a "better way" in all aspects of their programs and experiences.
21. I believe the area of sport psychology would be an added benefit to our student-athletes.
22. None. The same.
23. I think it is something that is happening now but I would like to see further integration of the student athlete into the mainstream of college society.
24. As for programs or experiences, I'd like to see more life skills classes directed mainly at the challenges facing student-athletes (time management, interpersonal relationships with teammates and coaches, etc.). Time management is the biggest life skill beneficial to student-athletes, in my opinion.
25. Life after athletics
26. Interview techniques.
27. Leadership projects or class offered Leadership Institute to help students grown and learn
28. I plan on taking advantage of the NCAA's provision of DISC assessment for the student-athletes in my leadership programs.
29. Culture building and integration. Mentorship development, self-identity, deep thinking.
30. Conflict Resolution and Critical Analysis skills training
31. affordable programming speaker series books, workbooks with attainable/measurable goals
32. Some sort of leadership programming/academy for the top level kids — at this point we don't have the staff to provide this. We're doing a lot of great things, but don't have the (wo)manpower to add a program like this. I'm hopeful for the future!
33. I think student-athletes generally need more financial management skills, public speaking skills, and interviewing skills. These will be the three most important things they need when they graduate and move into the work force.
34. Internships related to students' particular field of study/interest.
35. Job interviewing. Financial planning.
36. Leadership, decision making, leading others, social responsibility, citizenship and service.
37. -accoutability-both being and holding others to
38. Intellectual grounding Appreciation for abstract ideas
39. Our University currently offers leadership training. We had planned on combining with them before and never really implemented it. It would be great to join forces with them and use some resources they already have.
40. I would like our students to become better at basic communications skills: Listening, speaking and writing.
41. More of them! Timing/scheduling issues.
42. Recently implemented a mentoring program where alumni mentor senior S-A's.
43. Big projects like Habitat for Humanity where we could have all of the department come together and take a neighborhood that is run down and restore it one home at a time.
44. learning how to take charge of their lives. many graduate not knowing how to make decisions without a coach or parent telling them what to do. I think they need to learn self-reflection and decision making off the athletic field.
45. Continued developing a total program of leadership for underclassmen as well as upperclassmen Taking initiative within the team, working as an entire program instead of by classes
46. We are currently looking to develop a department wide leadership program that will be used by all coaches, captains, and student-athletes, parallel to the development programs used by other offices on campus. Our student-athletes need to learn to find and effectively "use their voice" and to be able to have a global view of their surroundings and how their behavior reflects others, positively and negatively.
47. Student-athletes do not have enough opportunities to develop themselves and become self aware. The emphasis is on team awareness without building the foundation of self awareness. I think this is the greatest area for growth.
48. Financial literacy; dining etiquette; upward management (dealing with the coach)
49. Implementing an Emerging Leaders program would be ideal… developing scholar-athletes.
50. Health and wellness is where I would like to see our student-athletes get more exposure in the future.
51. Career development
52. Life After Athletics such as financial planning, family matters and Mental Health issues
53. Interviewing skills, dealing with conflict outside of sports, responsibility, life after sports, money management
54. I would like to see more learning communities where the student-athletes live together and attend the same classes, keeping them in a cohort. Also one that is cross training from class to class.
55. Off campus promotions. Working with business to learn to use their skills
56. Employment programs with degree applicable internships are what I think would be the most effective.
57. Leadership seminar for female student-athletes with panel made up of former female student-athletes. Leadership seminar for minority student-athletes…same as above.
58. Start our Student-Athletes early in their academic and athletic careers learning the importance of being a positive role model and the importance of being leaders who influence others in a positive way. Many young people have not had the benefit of good leadership as high schoolers.
59. goal setting and strategic thinking
60. We continue to develop their communication skills (speaking writing, computer and social media, digital media. We also provide hands on experience working with and inspiring others through community service programs. We also try to teach skills that help them communicate with other teammates to help improve performance in the classroom, on the field of play and in coping with daily life.
61. Captain's table for each team, department-wide group to address student-athlete issues (motivation, decisions regarding sex, substance abuse, team loyalty, and academic responsibility)
62. We should have more work experience opportunities for our students (real jobs) around their studies and training.
63. The more we can teach about respecting others (e.g. opponents, teammates, coaches, officials) the more student-athletes will develop a healthy level of self-respect that will enable them to become good husbands, wives, fathers, mothers, employees, and citizens.
64. We are starting a Leadership Academy that will teach student-athletes leadership skills personally and give them tools to bring those lessons they learned back to their team.
65. Etiquette Dinner, Career Placement program, Crisis Management plan
66. How to appropriate brand and communicate through the various social media venues.
67. financial management social media training
68. experiential learning – recreate adversity outside their typical athletic comfort zones understanding where the line between teammate/friend is & being willing to uphold it
69. workforce entry programs
70. No new program, but an added emphasis on teamwork and continual feedback from coaches and teammates.
71. Programs that help them connect their athletic experiences to real life leadership
72. Reflection of leadership styles, study current leaders and personality traits.
73. More experiences that apply to life after sports
74. I would like the time to develop the Start Up Weekend event so that it is turnkey.

E. Anything else you would like to add about student athlete leadership development and life skills programs?
1. I think life skills programs are to educate our students on life. Small things like being able to write a thank you note or be comfortable with silverware and place settings at a "fancy" dinner. These are small things, but again a great way to be comfortable in unfamiliar settings.
2. I can only speak for our department, but we are making great efforts in these areas and student-athletes seem to be taking advantage of them.
3. There should be enhanced opportunities for coaches to take leadership training for their own development as well as how to pass it along to their student athletes.
4. Athletics provides a perfect place to help a segment of the higher ed population become outstanding citizens. You will always hear that people don't have time- but with structure and programming in place, there is plenty of time for our SAs to do great work (for themselves and their community). All departments will benefit from reading your findings and identifying best practices.
5. We all need to do a better job with our student-athletes to prepare them for life after athletics and hopefully will be doing that.
6. Our Departmental Mission is – We guide, encourage and support our Student-Athletes in their quest for comprehensive excellence – academically, athletically and socially. Above all else, we prepare our Student-Athletes for productive and meaningful lives.
7. Athletic administration and coach buy in are tantamount to success in any leadership development program for student athletes. There has to be a connection between winning and leadership development in order to get buy in.
8. Division I athletes are often TOLD where to go, when to be there, how to get there, what to wear, etc. — they are VERY scheduled. So, while we THINK they are developing great leadership skills, I think they are actually taking steps backwards. We don't let them fail often enough (products of their generation) and we don't let them lead enough. I hope to add leadership programming in the future.
9. Student-centered programs, managed by S-A's and NOT totally presented and directed by staff.
10. Must be an on-going learning process – not just a once a year or once a semester seminar/webinar
11. I think it starts with the coaches. They must continually exhibit leadership characteristics and encourage student-athletes to become leaders.
12. Connect our young men and women with mentors and role models and make sure our coaches know and are clear about the important roles they play and the lessons their S-A's learn from them. A Huge responsibility.
13. Sports and education in tandem provide EXCELLENT leadership training and environment to work on transferrable and marketable skills for future employment
14. How to communicate with and handle personalities different than their own.
15. Very important topic. It will be the key to developing future leaders after sports career ends. These skill are essential for life-long learning and success.
---
Video describing this project: